The Most Highly-Concentrated Formulation of Essiac on the Market Featuring AHCC®
ESSIAC Gold boasts 4-to-1 extract concentration as well as a therapeutic dose of AHCC®.

Ottawa, Ontario (MAY 2021) – If there's one word that sums up consumer interest in supplements during the pandemic, it's immunity – with good reason. Market research looking at sales data, purchasing habits, and consumer mindset all support the fact that consumers have increased interest in strengthening their immune system through dietary supplements. According to Euromonitor, immune system-support supplements sales in the US increased by 32.4%, totaling sales of US $2.7 billion in 2020, up from US $2 billion in 2019. ESSIAC Gold™ is the new gold standard in immunity supplements. Essiac from Canada International newest product features Active Hexose Correlated Compound (AHCC®), a medicinal mushroom extract known for its immune system protectant capabilities. ESSIAC Gold™ will be sold through natural health retailers nationwide and available on Amazon in June 2021.
ESSIAC Gold™ consists of four whole plant™ ingredients: burdock root, sheep sorrel, slippery elm, and Indian rhubarb, as well as AHCC®. AHCC possesses commanding immune-modulating properties that have been shown through 30 human clinical trials to stimulate the production of white blood cells that are crucial for the immune system.
"ESSIAC Gold is the most concentrated Essiac formula to date, intended for those battling acute illness and requiring powerful immune support. Although, it can be used daily by anyone looking to enhance their wellness," said Essiac From Canada International Co-Founder, Lucille Perreault, PhD. "ESSIAC Gold supports one's white blood cell count and natural T-killer cells."
In addition to AHCC®, ESSIAC Gold ™ contains concentrated burdock root. The burdock root bolsters the immune system, helps the body combat inflammatory diseases, and contains antioxidants that reduce inflammation and protect cells from damage by free radicals. Free radical cell damage can result in health problems like aging, diabetes, autoimmune and inflammatory disorders, cardiovascular diseases, and central nervous system diseases. Sheep sorrel, which is also found in ESSIAC Gold™, is known to strengthen the walls of cells. ESSIAC's sheep sorrel possesses strong antiviral properties. It can also help prevent the destruction of red blood cells.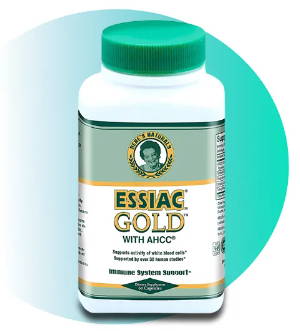 A therapeutic dose of ESSIAC GOLD ™ is four capsules per day, with 1-2 per day for general health maintenance. A normal regimen should include six bottles. Each bottle contains 60 capsules.
Essiac From Canada International creates formulations specifically for people seeking safer, all-natural solutions to protecting the body's immune system. They offer a complete product line of premium Essiac® dietary supplements, which are backed by extensive scientific studies, and available as an herbal powder, herbal extract, and vegetable capsule. Essiac® products are available in over 52 countries worldwide.
Its product line stays true to the formulation first introduced in 1922 by Canadian Nurse, Rene Caisse, inspired by Ontario's Ojibwa nation's traditional herbal remedies. Her goal was to honor Indigenous wisdom, and provide a solution that allows people to restore life and legacy, ultimately creating a world in which we can all thrive, overcome barriers, and triumph. Essiac is renowned for its ability to enhance the immune system.
Essiac From Canada International produces ESSIAC Gold, ESSIAC Herbal Powder, ESSIAC Extract, and ESSIAC Vegetable Capsules, all of which are vegan, non-GMO, and free of pesticides.
ESSIAC® is available online at Amazon and through hundreds of natural products retailers nationwide.
About Essiac From Canada International
Essiac From Canada International™ is owned by Larry Poirier and Dr. Lucille Perreault. Its mission is to help people thrive, restoring their power to heal themselves, and supporting them in their desire to overcome obstacles and live out their own legacy. Their Essiac formula honors the work of Rene Caisse, a Canadian nurse that in 1922 introduced the Essiac formulation inspired by Ontario's Ojibwa nation's traditional herbal remedies. Available as an herbal powder, vegetable capsule, and herbal extract, Essiac contains four simple all-natural ingredients, burdock root, slippery elm, sheep sorrel, and Indian rhubarb.