Building Your Legacy Starts Today
Essiac from Canada International™ supports healthy legacies for almost 100 years with Essiac®, the immune booster that protects and preserves our health, helps us to overcome challenges, embrace longevity and reclaim wellbeing.

Ottawa, Ontario (JULY 2021) – After an unpredictable and turbulent 2020, many are hoping 2021 will bring more stability. One major theme that will continue is what many wish 2020 had more of: health! This had led consumers to pick up their pursuit of immunity boosts. Essiac from Canada International offers a vegan form of the all-natural supplement Essiac, Canada's original herbal immune booster, which is now available in the U.S. through Amazon and at better health stores. People have been using Essiac as a natural health solution for almost a century. Its time-tested blend of burdock root, slippery elm, indian rhubarb and sheep sorrel honors the original recipe of Canadian Nurse, Rene Caisse which dates back to 1922, and was inspired by the Ojibwe Tribe. Essiac® is the choice of people currently battling or who have overcome health challenges and are living a healthier legacy. Whether one's legacy is to spend more time with family, climb more mountains, or attain their wildest dreams, Essiac builds a personal legacy of enhanced health using four Whole-Plant Sourced™ ingredients.
"People are looking to transform how they protect and preserve their own health and they're realizing that there is no magic bullet approach," said Essiac From Canada International Co-Founder, Lucille Perreault, PhD. "True life and legacy is the result of making healthy life choices every day and seeking natural solutions that stand the test of time."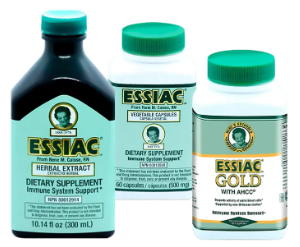 In 1922, using four natural herbs, Caisse learned of an herbal remedy used by the Ojibwa nation. Caisse, a nurse working at a clinic in Haileybury, Canada prepared the original herbal formula as a drink which she called Essiac, her named spelled in reverse. She continued her work as a nurse and her use of Essiac amongst her patients continued to gain recognition. To this day, Essiac from Canada International uses the same ratios from Caisse's original recipe. Offered as a liquid extract, herbal powder, or as vegetable capsules, Essiac is the original herbal cleanse and has become a trusted health supplement used to bolster immune strength to fight a range of serious illnesses and for immune maintenance on the journey to better health.* Their all-new Essiac GOLD™ features the same ingredients as the original Essiac but ups the immunity quotient with medicinal mushroom extract Active Hexose Correlated Compound (AHCC®) which possesses commanding immune-modulating properties that have been shown through 30 human clinical trials to stimulate the production of white blood cells that are crucial for the immune system.
By helping people restore life and legacy with these many health benefits, Essiac From Canada International envisions a world in which holistic wellness and the power of whole plants is realized.
Essiac From Canada International produces ESSIAC Herbal Powder, ESSIAC Extract, ESSIAC Capsules and ESSIAC Gold™, all of which are vegan, non-GMO, and free of pesticides.
Essiac is available online at Amazon and through hundreds of natural products retailers nationwide.
About Essiac From Canada International
Essiac From Canada International™ is owned by Larry Poirier and Dr. Lucille Perreault. Its mission is to help people thrive, restoring their power to heal themselves, and supporting them in their desire to overcome obstacles and live out their own legacy. Their Essiac formula honors the work of Rene Caisse, a Canadian nurse that in 1922 introduced the Essiac formulation inspired by Ontario's Ojibwa nation's traditional herbal remedies. Available as an herbal powder, vegetable capsule, and herbal extract, Essiac contains four simple ingredients, burdock root, slippery elm, sheep sorrel, and indian rhubarb.