COMBINES THE BEST OF THE NEW
WITH THE TRIED AND TRUE
COMBINES THE BEST OF THE NEW WITH THE TRIED AND TRUE
POWERFUL IMMUNE SUPPORT – Essiac Gold is an herbal extract remedy that helps support the immune system and normalize the body by aiding in the promotion of effective detoxification of the kidneys, skin, and mucus membranes. Essiac Gold takes the original blend of Burdock Root Extract, Whole Plant Sheep Sorrel Extract, Slippery Elm Bark Extract, and Indian Rhubarb Root Extract and enhances it by adding AHCC®️ mushroom extract.
CLINICALLY PROVEN IN OVER 30 HUMAN CLINCAL TRIALS – AHCC®️ is a natural compound extracted from cordyceps of shiitake mushrooms. It was developed in Japan in 1989, and has since been used to improve the immunity of over 100,000 patients, and has been studied in over 30 human clinical trials. AHCC®️ has the unique ability to stimulate the immune system, which is important in regulating healthy cell growth.
EVIDENCE BASED – Combining AHCC®️ supplement with our traditional Essiac formula makes Essiac Gold an immune support powerhouse. AHCC®️ is a powerful, evidence based option for people that want to support their immune function, enhance immune cell production and promote normal cellular growth and differentiation.
ENHANCES ANTIBODY PRODUCTION – Essiac Gold is a synergistic formulation to promotes normal cellular growth and differentiation, as well as enhance immune cell production.
CELEBRATING 100 YEARS– During the early 1920's, nurse Rene Caisse learned of a formula from a Canadian Ojibwa Healer. She later prepared her original herbal formula into a drink called Essiac, which is Nurse Caisse's name spelled backwards, and she dedicated the remainder of her life to perfecting her powerful formula and caring for patients.
DIRECTIONS FOR USE:
Take 2 capsules 2 times daily per day, one hour before or after meals and 2 hours before or after taking any medication or health product. Maintain adequate fluid intake throughout the day.
WARNINGS:
Consult a health care practitioner if symptoms persist or worsen.
Consult a health care practitioner prior to use if you are breastfeeding or if you have kidney disease or a history of kidney stones
Do not use this product if you are pregnant, if you have heart disease, blook pressure issues, kidney or liver disorder, diabetes, edema, if you are taking products containing diuretics
Laxative effect may occur. Stop use if hypersensitivity/allergy occurs, if you experience abdominal pain, cramps, spasms and/or diarrhea. Stop use and seek medication attention immediately if you experience dizziness, confusion, muscle or pain, abnormal heartbeat and/or difficulty breathing.
OVER 30 HUMAN CLINICAL
AHCC®️ mushroom extract is composed of several species of medicinal mushrooms. AHCC®️ is unique in that while most mushrooms contain primarily Beta Glucans, AHCC®️ is rich in Alpha Glucans, a type of polysaccharide with very potent immune enhancing effects. Combining AHCC®️ with our traditional Essiac®️ formula makes Essiac Gold™ an immune support powerhouse.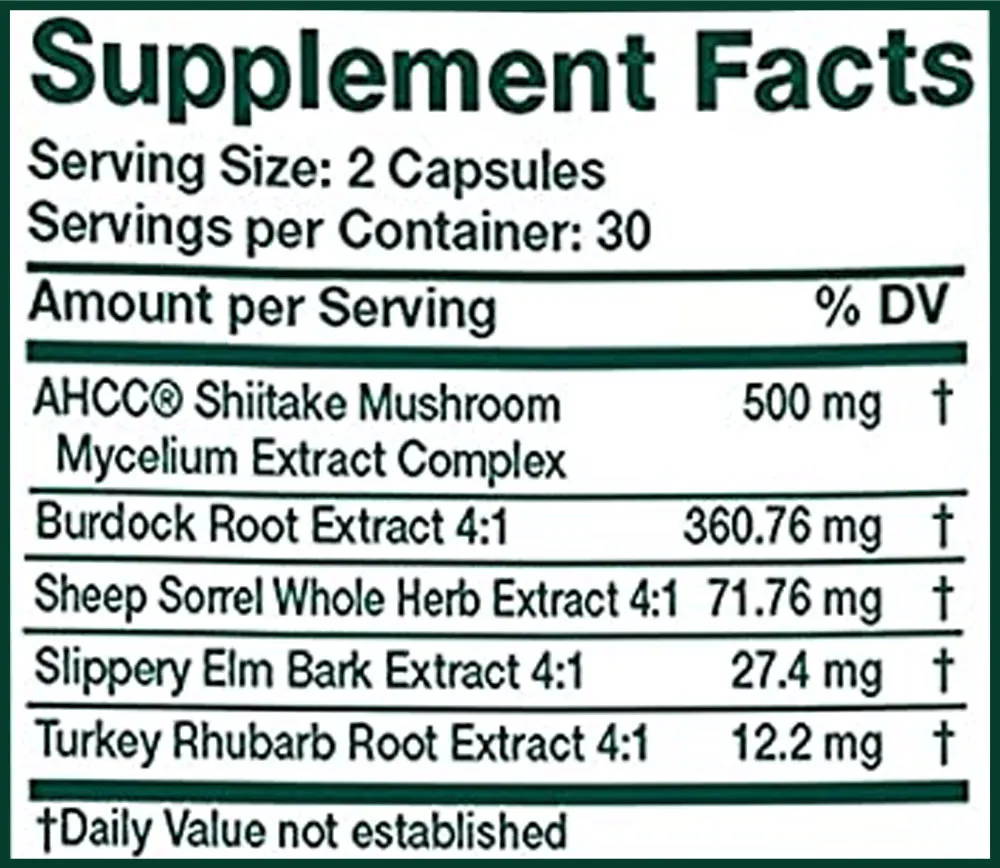 Other Ingredients: Hypromellose (capsule), Microcrystalline Cellulose, Carnauba Wax, Dextrin, Magnesium Stearate.
AHCC® is a standardized extract of cultured of hybridized medicinal mushroom mycelia (roots).
AHCC® is a registered trademark of Amino Up Co., Ltd., JAPAN.