» 𝟏𝟎𝟎% 𝐏𝐋𝐀𝐍𝐓 𝐁𝐀𝐒𝐄𝐃 – The natural herbal remedy, Essiac®, is traditionally used in herbal supplements as an alterative to help remove accumulated waste products via the kidneys, skin, and mucus membranes.*
» 𝐏𝐎𝐖𝐄𝐑𝐅𝐔𝐋 𝐀𝐍𝐓𝐈𝐎𝐗𝐈𝐃𝐀𝐍𝐓𝐒 – Essiac® is formulated to contain an abundance of powerful antioxidants to aid in promoting overall health and well-being.* Since 1922, our Essiac® traditional tea formulation has contained a proprietary blend of Burdock Root Extract, Sheep Sorrel Extract, Slippery Elm Bark Extract, and Indian Rhubarb Root Extract.
» 𝐂𝐎𝐍𝐂𝐄𝐍𝐓𝐑𝐀𝐓𝐄𝐃 𝐄𝐗𝐓𝐑𝐀𝐂𝐓 𝐂𝐀𝐏𝐒𝐔𝐋𝐄𝐒 – The herbs are macerated, then the vital plant nutrients are extracted at low temperatures to ensure maximum potency and superior absorption.
» 𝐐𝐔𝐈𝐂𝐊 𝐀𝐍𝐃 𝐂𝐎𝐍𝐕𝐄𝐍𝐈𝐄𝐍𝐓 - Unlike the traditional Essiac® herbal tea powder, no need to brew as the vital plant nutrients have already been extracted into a powerful herbal capsule that is 4x to 6x more concentrated than the brewed tea.
» 𝐓𝐇𝐄 𝐎𝐍𝐋𝐘 𝐀𝐔𝐓𝐇𝐄𝐍𝐓𝐈𝐂 𝐄𝐒𝐒𝐈𝐀𝐂® – During the early 1920's, nurse Rene Caisse learned of a herbal remedy used by a Canadian Ojibwa healer. She later prepared her original herbal formula into a drink called Essiac® , which is Nurse Caisse's name spelled backwards, and she dedicated the remainder of her life to caring for patients with her powerful formula.
*These statements have not been evaluated by the Food and Drug Administration. This product is not intended to diagnose, treat, cure or prevent any disease.
» DIRECTIONS FOR USE (ADULTS):
Take 2 capsules twice daily for daily use, one hour before or after meals.
For more severe health issues, take 3 capsules, three times daily, one hour before or after meals.
For maintenance, 1 capsule twice daily, one hour before or after meals.
» WARNINGS:
Do not take if you have kidney stones, or arthritis, or gastrointestinal disorders, including intestinal obstruction, appendicitis, abdominal pain of unknown origin, irritable bowel syndrome, Crohn's disease, ulcerative colitis.
Consult a health practitioner prior to use if you have diabetes, if you take oral medication, and/or if symptoms persist or worsen.
Do not use if you are allergic to plants of the Asteraceae/Compositae/Daisy family.
Do not use if you are pregnant or breastfeeding.
Keep out of reach of children.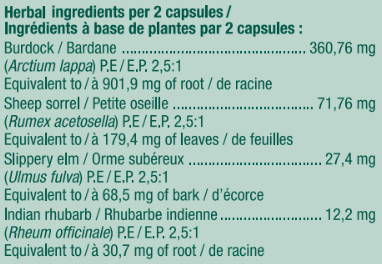 Other ingredients: Vegetable magnesium stearate, maltodextrine, cellulose.